All Tile Town staff across British Columbia and Alberta are wearing green in support of Green Shirt Day to honour the "Logan Boulet effect". The selfless act of Logan Boulet, a young Saskatchewan Humbolt Broncos hockey player, ensured six lives could live.

Logan was a registered organ donor. After news that Logan's parents donated their son's organs, over 100,000 Canadians registered as organ donors in the days and weeks that followed the Humbolt Broncos Bus crash. Logan's courage spurred a nation to act.
"The Humbolt crash isn't just a hockey story. It's a story about grief for 29 Canadian families," says Mike Scardina, owner of Tile Town. For Mike, "The whole thing is an unbelievable tragedy. Watching the Boulet's speak, and the amount of grief that they still feel, … it just breaks your heart. If there is anything that we can do to support their efforts – and honour their son's selfless act – then that is what we're doing at Tile Town."
Celebrating Life Through Organ and Tissue Donation
Wearing green on April 7 symbolizes remembering and recognizing all the victims and families of the fatal Humbolt Broncos Bus crash, while continuing Logan's legacy to inspire Canadians to talk to their families and register as organ donors. Logan registered as an organ donor after learning that his coach and mentor, who passed away in 2017, was an organ donor.

As a past Richmond Sockeyes, a hockey coach for ten years, and a dad with three sons who play hockey, Mike Scardina knows the concern hockey parents face with kids travelling on buses to and from games.
The tragedy that befell the Humbolt Brocos last year hit too close to home for Mike and his wife for their son Keenan travels those very same roads while playing for the Saskatchewan Junior Hockey League. When the fundraising campaign for the families began, Mike immediately made a donation on behalf of each of his 29 employees.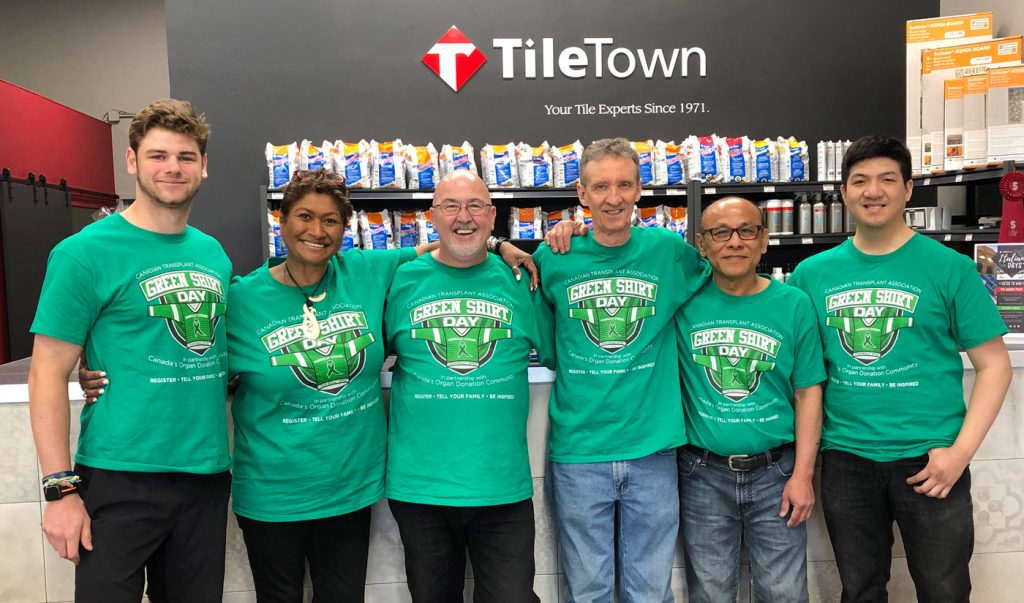 Talk To Your Family. Become A Donor.
Learning most Canadians say they support organ donation, but only 23% have registered their intent to donate, Mike feels compelled to do anything he can to honour Logan's selfless act. When Joelle Cooke, Tile Town's Surrey store manager, told Mike about Green Shirt Day, Mike saw this as an opportunity for all his employees to participate and support Logan's legacy.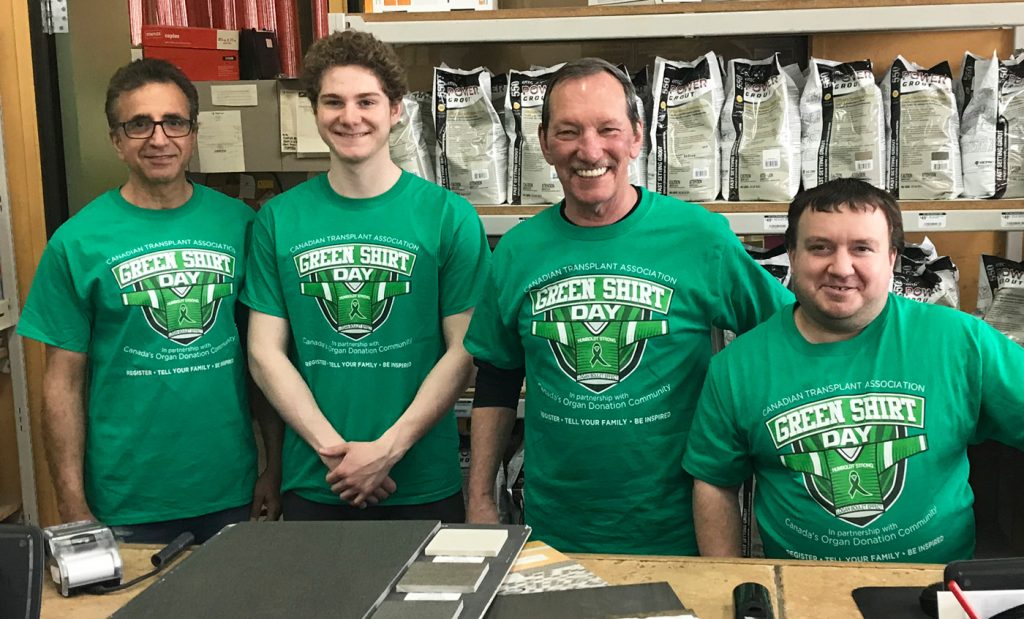 "As an owner of a company, I have the opportunity to make our employees feel part of something. Since we are not open on April 7, everyone on April 6 will be wearing a green shirt that we purchased on their behalf. We're not doing this to talk people into becoming organ donors, nor are we making our employees feel compelled to register. We're bringing awareness in support of organ donor registration across Canada while celebrating life."

Approximately 250 Canadians die each year waiting for an organ transplant. Like Logan, you can help change this. Not sure what's involved, check out the frequently asked questions about becoming a donor on the Green Shirt Day website. You can register as a donor in your province by visiting the Canadian Transplant Association.

At the end of the day, whatever your decision, talk to your family and loved ones about your intentions so they can honour your wishes.
#LoganBouletEffect
#GreenShirtDay
#BeInspired
Tile Town locations Get Green.