Are you someone in the southern Edmonton area looking to begin an exciting tile project, but don't know how to get started? Overwhelmed with the amount of tile options and tile stores around you?

Look no further than Tile Town's South Edmonton showroom location, where you'll find top-of-the-line tiles, all the tools necessary for your installation, and an on-hand customer service experience like no other.

Found at 8219 Argyll Road NW, this Tile Town location provides service six days a week from Monday to Saturday, and staff are ready to answer any questions in-store, online, or over the phone.

And while there are plenty of reasons why Tile Town South Edmonton is the store for you, here are five to show you just what this store is made of.

1. The staff know tiles like no one else
Something that Tile Town prides itself on is its ability to provide customers with the best support in the business. At Tile Town South Edmonton, you'll find staff members full of ideas and training that can help you form your ideas into perfection.

One such employee has been with Tile Town for more than 40 years and has continued to be a beacon that lights the way for hopeful tilers — that's 40 years of trusted professionalism and assistance. Brad Bellefontaine (who talks about his dedication to Tile Town customers) has been a staple for Tile Town South Edmonton, and him and the entire staff are ready to assist you along any and all steps of the way.

If you come on down to this store, be ready for Brad to greet you with a smile!

2. It has the largest "In Stock" selection
Customers coming to Tile Town South Edmonton will be fortunate to know that they have any tile that they desire within their reach, right as they enter the store. Looking for a tile of a specific size to expand your room, or a need a certain colour to match your living room's aesthetic? They'll have options ready for you!

Plus, you can take tile samples home to help you get a better feel for your soon-to-be tile commitment. And at the off chance they don't have what you need in store, you're in luck! Tile Town South Edmonton has the ability to order from all major local tile suppliers, so your needs can be met swiftly.

3. Their showroom is brimming with inspiration
Whether you're wanting to create the best accent wall or revamp your kitchen backsplash, you'll find tons of inspiration at this Tile Town store. Their showroom is stocked with concepts that will help you finalize your tile ambitions.

You can also request one-on-one assistance through our complimentary design consultation that will ensure you have the time and space to talk through your ideas with a specialist.

Can't make it in store? You can also try the Tile Town Visualizer Tool to give you an idea of how different tiles will look with one another in various rooms or use the TownSquare app for you and your consultant to work through.

4. The store is highly acclaimed (by customers just like you!)
Boasting a rating of 4.8/5 stars from more than 800 first-party customer reviews, this store has not one, but two specialties: tiles, and satisfied customers. As a store that has a personal shared mission of improving people's quality of life, you'll leave Tile Town feeling confident, accomplished, and, most importantly, heard.

Not to mention, the location boasts other accolades, which includes a six-year run of winning the Consumer Choice Award in the tile category.

5. It's in a prime location
Location is a crucial component for any store, and Tile Town's South Edmonton store brings you to a bustling part of Edmonton with life all around it.

Found right off of 75 Street NW, this location has plenty of bus stops nearby for those who don't drive and a large parking lot ready for several customers to park in.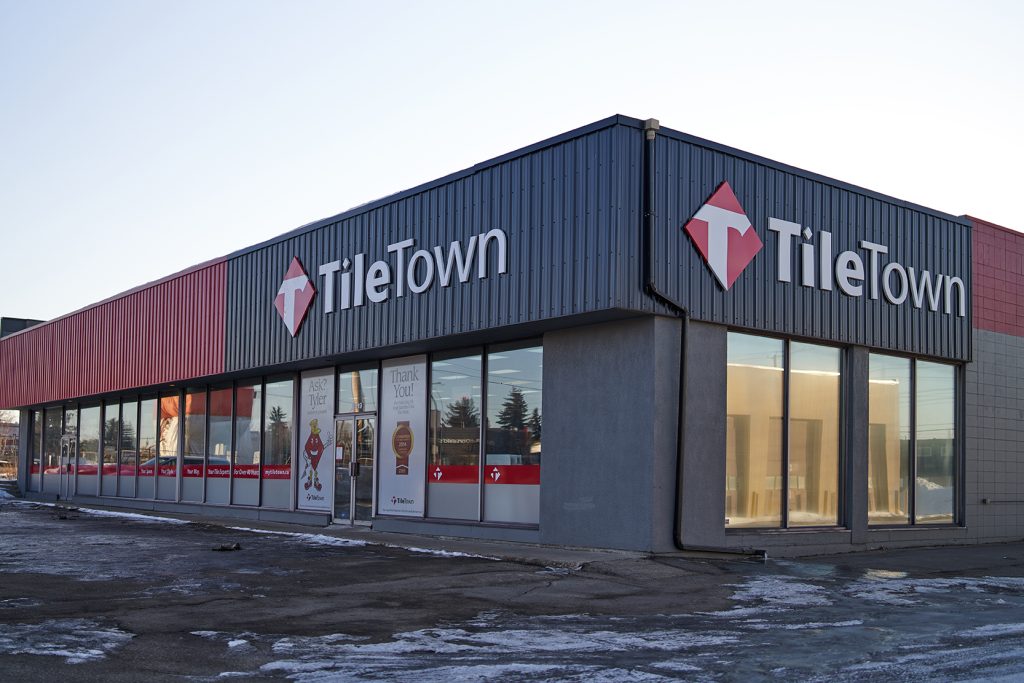 Ready to get your tile project started? Come down to Tile Town South Edmonton at 8219 Argyll Road NW for the best tiling experience you can imagine, or call in at (780)–466–1343. You can also check out Tile Town on Instagram to get to know the store better!