Successful tiling projects rely on the shared understanding between professionals and customers regarding their vision for their interior design. It's useful for aspiring renovators to go into an in-person consultation or begin planning their project by knowing what kind of tiles they plan to work with.

And between many variables that come with tile selection, such as choosing a tile size, knowing what colour of tile you need, or mapping out an intricate tile pattern design, an often forgotten, yet incredibly significant, aspect is deciding on a tile finish.

But what are the different types of finishes tiles can have? Here's a comprehensive list of some tile finishes you may choose when starting your tile project.

Get to Know Tile Materials

Before getting into the specific tile finishes, it is first necessary to differentiate the three most common materials. This will help you narrow down to the particular finishes based on the type of material the tile is made of.

Stone: Perhaps the most durable material, stone tiles are heftier and are often rougher than most other tiles. As their name suggests, they are a completely natural material and are able to withstand wear and tear while offering an industrial aesthetic.

Ceramic: Ceramic tiles combine versatility with cost-efficiency, are made of clay and are detailed with bevelled edges. They are easily adaptable, being able to provide thermal protection, and can even protect from slipping.

Porcelain: While often seen as interchangeable with ceramic tiles, porcelain tiles are made at a higher temperature and made of a ratio of silica and quartz. As such, they are a tad more durable, which is made up for in the increased cost of ceramic. However, they offer the same amount of diversity in tile design.

Types of Tile Finishes

Matte Finish: A smooth finish with very little shine or highlights. Often called dull, a matte finish has a low gloss sheen that reflects less light than other materials but makes up for it by hiding blemishes and minor flaws.

Polished Finish: The glossy finish is highly reflective and goes hand-in-hand with a gloss finish. This material's surface is ground down to create the finish, resulting in a natural shine that can withstand moisture and stains.

Glossy Finish: Having a mirror-like appearance, a glossy finish coats tiles with a durable glazed coating that can come in a variety of appearances. This type of finish helps to make a room appear larger, given that they naturally reflect light and elongate a surface.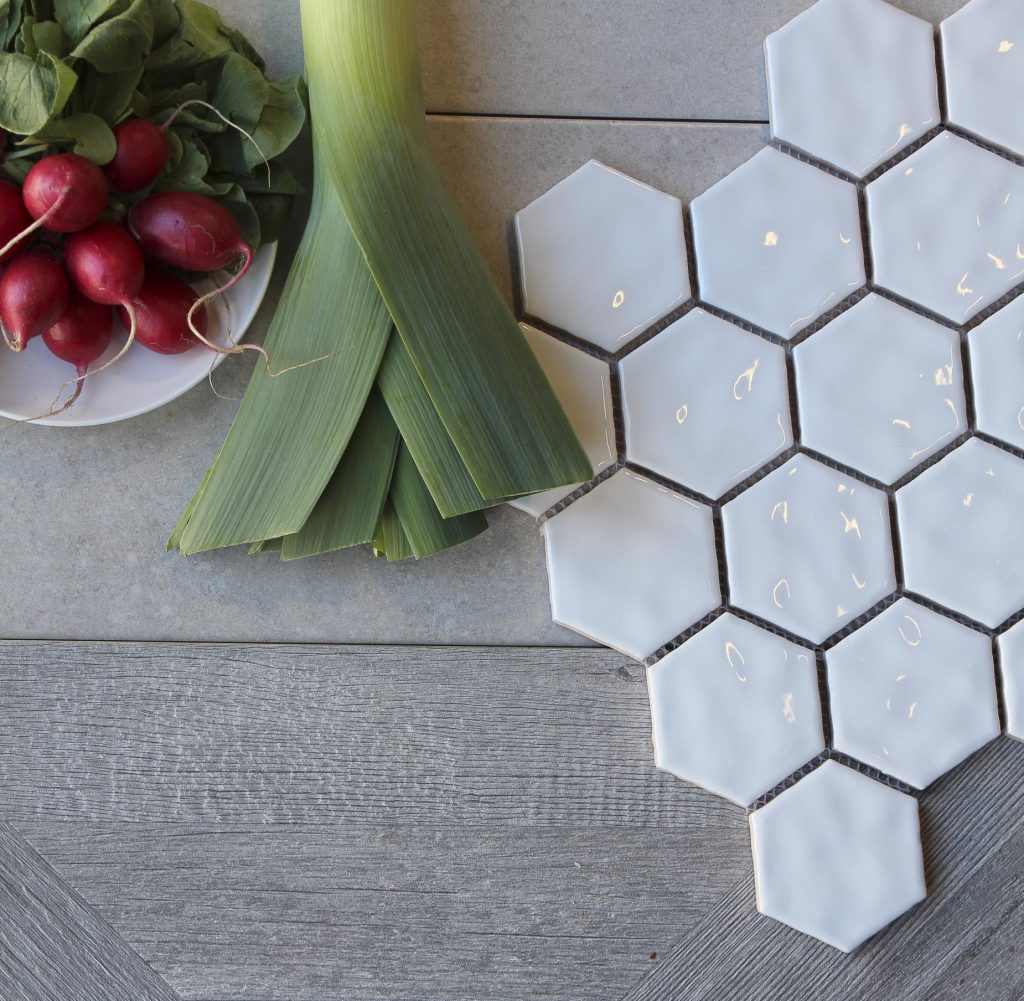 Lapatto (Semi-Gloss) Finish: Partially polished, it gives tiles the appearance of a shiny texture without being as reflective as a full glossy finish.

Satin Finish: This finish is produced in a similar method to polished but uses fewer polishing wheels. This makes it softer than a polished finish, similar to a hybrid between matte and polished finishes.

Brushed Finish: Reminiscent of a matte finish without the shine, a brushed finish gives the appearance of a rough surface while maintaining smoothness. This leaves a textured feeling to them, making them excellent for slip-resistance.

Tumbled Finish: Achieving a tumbled finish sees materials buffed instead of polished, leaving them with a worn look while maintaining elegance. It has a rustic appearance but still stays smooth.

Honed Finish: A stone tile surface that has been ground down, leaving behind a sleek surface with rough edges. Very little light is reflected off of a honed finish and is often seen as the mid-point between a polished and natural finish.

Natural Finish: As the name suggest, this finish sees stone tiles completely untouched (except for the cutting of the tile).

Want to learn more about tile finishes? Visit any of our Tile Town locations, and check out our Instagram for some tile-finish inspiration!