Since 2017, Judi Merrell, a talented interior designer and architect, has been a part of the Richmond, BC Tile Town team. We asked Judi a few questions on her role, love of design, how she discovers Tile Town customer needs and what inspires her own home interior designs.

Please share with us, Judi, how you came to work at Tile Town?

Being in the design world and the opportunity to practice my skills every day in helping guide, solve, and execute very real customer visions and problems with interior design and renovations, drew me to apply for a position with Tile Town in Richmond, BC.

I was offered the position of Assistant Store Manager and Design Consultant. Along with that came the freedom to implement design influences and share knowledge to help create design dreams, no matter the size of the renovation project.

It's been an incredible five-year journey in an enjoyable, creative and wonderful work environment.

It's entirely my pleasure working with Tile Town clients; I love hearing about customers' design needs and ultimately seeing their reactions to what tiles can do to beautify spaces.

How is Tile Town different – why should people shop with us?

We listen to your needs at Tile Town and guide you through the tile selection process.

Well-designed architecture and design and the connection individuals have to it, is first and foremost, personal and something not easily explained.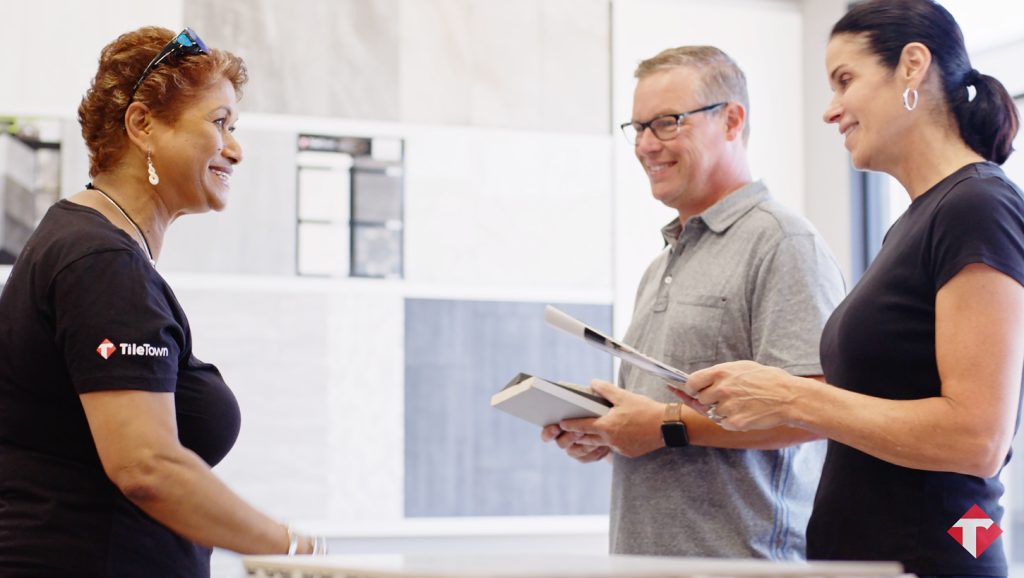 Why? Because everyone is different!

Designing any aspect of your home is a reflection of your personality. Tiles play an essential role in interior design, and we work with you to identify what tiles can be used. They set your home's look and feel, creating the desired ambience and comfort.

How has your role changed?

Each day I step up to the challenges of finding the right tile, designing the proper layout and meeting the needs of my customers with ever-changing design and style trends.

What do you love about your job?

Everything! I LOVE the Tile Town Approach: Tile Town – Your Space, Your Style, Your Way.

I have the tools and the resources to support my work and customers.

Most importantly, I am valued and part of a great team. I am provided with the opportunities to increase my knowledge and understanding of tile styles and applications, additional supplies and accessories and new product training while working with a great group of friends – a reliable and fun team headed by a dedicated and fun Store Manager.

Do you have a background in design?

Design trends have always been an influence in my life. It all started with observing my mother designing our various homes while growing up.

I studied Architect, Project Management, Interior Design and have a Bachelors's degree in Architectural Interior Design from the University of Auckland in New Zealand.

Working professionally with architectural firms showed me that my area of expertise is working with the finished colour, space, layout and style rather than designing an overall structure. My education allows me to offer both advice and experience, architecturally and design related.

Tell me about your approach to design.

I am influenced by culture, cultural design trends and space having its own personality.

Creating memorable, delightful stress-free experiences is key to my approach to design and designing space.

Creating a tile design is like painting a picture – we must consider all the factors involved in the space – colour, space, layout and style. I love simplicity, elegance and comfort. I enjoy marrying glass, wood and tile together, Scandinavian or Swedish styles, clean, muted tones, transparent glass and wood structures with diffused lighting and lighter tones and textures. The right tile choice enhances the overall effect of completing the space.


What design inspirations have you brought to your own home?

The strongest design inspirations for me are the South Pacific. Our home reflects my childhood in the South Pacific with my husband's BC background. Our home combines culture and arts. BC's magnificent First Nations art is very similar to the New Zealand Maori art. My Fijian roots and artwork add to the warmth of our home as do Indigenous art and warm elements like plants and paint tones (Terracotta and Indian sunset colours). Even in the middle of a snowy winter, our home feels like a tropical paradise.

All that's needed is a cold beverage in a coconut cup to make me feel like I'm on permanent vacation in my home!

Visit our Tile Town location in Richmond to see Judi. Come prepared with vision ideas by first spending some time using our (free) desktop design app Town Square.